Project detail

Ambler Industries is a premier landscape construction company that provides professional, full-service landscape services, including landscape design and installation, lawn care and property maintenance. This landscape contractor is known for top-notch landscape solutions that increase property value and beautify outdoor spaces across Buck and Montgomery County, PA. The company tapped Thrive Internet Marketing Agency's digital marketing expertise to manage its social media campaigns. The goal was to strengthen its brand presence, build audience trust and gain profitable business interactions through organic social media marketing. Within only five months of taking over the client's social media management, Thrive generated a 100 percent increase in new Instagram followers and a 70.9 percent increase in Facebook interactions compared to the previous year.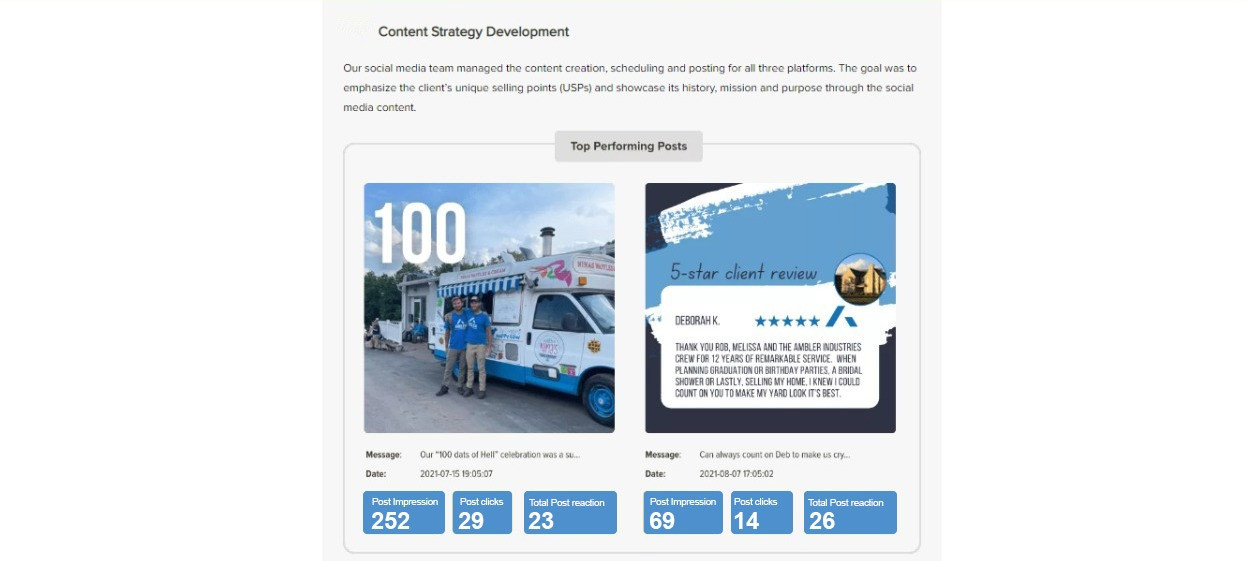 Thrive's hands-on management of both Facebook and IG accounts also helped the client boost its engagements (i.e., likes, shares, clicks, reactions, etc.) month-over-month (MoM). Through our Facebook management efforts, we reached approximately 8.1K people and generated 553 post likes. The client's Facebook page engagements also significantly improved from March to August 2021, generating a 365.9 percent increase in total page engagements and a 365.5 percent increase in post reactions in the fifth month. Thrive's Instagram management campaigns also delivered a whopping 10.8 percent increase in channel engagement and a 27 percent increase in monthly growth rates.
Get a Quote
We've Completed More Than 100+ project for our amazing clients, if you interested?
---
Design your site now